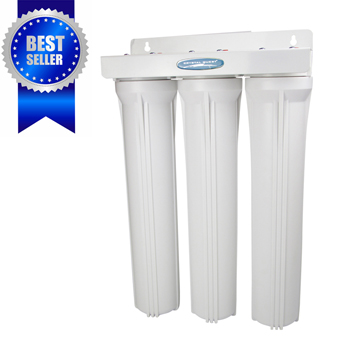 CRYSTAL QUEST Whole House Triple 10″ x 5.0″ Water Filter System
make it easy to enjoy healthy, better-tasting water. This heavy-duty whole house water filter from Crystal Quest quickly and conveniently filters 80,000 gallons of water for your home, apartment, or office.
CRYSTAL QUEST Whole House Triple 10″ x 5.0″ Water Filter System
is engineered for maximum filtration and maximum performance with minimum maintenance. They are the most comprehensive and cost effective systems available today. The
CRYSTAL QUEST Whole House Triple 10″ x 5.0″ Water Filter System
easily handle the tough water problem. They deliver great tasting water and trouble free operation for many years. It removes impurities that can stain your sinks, showers and tubs, spot your glassware, ruin your clothes, corrode your plumbing and appliances and offend your taste buds. Water travels through 8 stages of filtration: First cartridge water flows through a 10″ sediment filter cartridge that removes sediment, silt, sand and dirt.
Features
In the first stage, water passes through a sediment filter to remove sand, dirt, and silt. Removing the sediment upfront extends the life of these advanced water filter systems.




During the second stage, 1-micron filter pads remove additional undissolved particles such as cysts (Giardia, Cryptosporidium) and rust while further removing silt and sand.
The third stage consists of granular activated carbon (GAC). GAC absorbs a wide variety of contaminants such as chlorine (99.9%), THM's and benzene (which are linked to cancer), pesticides, herbicides, VOC's, PCB's, MTBE's, and hundreeds of other harmful substances that may be present in your water.
In stage 4, E. Coli, cysts, salmonella, streptococcus, Fecal coliform, and sediment are removed by passing through ceramic media.
Water then passes through another 1-micron pad to filter out undesireable particles before entering the final stage- a solid carbon cartridge to remove VOC's and industrial solvents.
This water filter system effortlessly removes hundreds of water toxins and will provide 80,000 gallons of great-tasting and odor-free water.